Enrolment at the Nhyiaeso D/A Basic School has more than doubled following the completion and handing over of a new classroom block.
Following a JoyNews Agenda report, MTN Ghana Foundation handed over a fully furnished six-unit classroom block and a teachers' bungalow to the school.
The Nhyiaeso D/A Basic School has become the choice of students in adjoining communities even in the Sekyere Afram Plains district.
That modern edifice does not only make teaching conducive but provides the right learning environment.
"It is really captivating to see students in an environment like this. They don't even want to go home and they are really enjoying what MTN has given to us," Municipal Director of Education for Asante Akim, Mildred Ama Kwakye Agyapong said.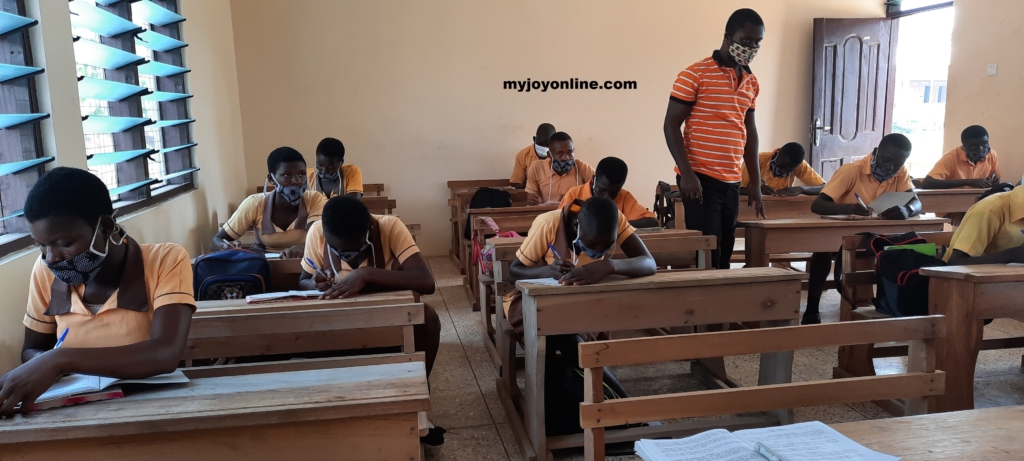 The student population has increased from 256 in 2019 to the current 673.
Primary school accounts for 458, with the rest at kindergarten and JHS.
Nasidu Amidu is one of 45 junior high students who have so far changed their schools from Dagomba in the Sekyere Afram Plains District to Nhyiaeso.
"My classroom at Dagomba used to leak badly. Fortunately for me, there is a new classroom for me here. I am elated to be in this new classroom. I am always happy to come to school because of the new classroom," said Amidu.
Amidu with four of his friends who until now trekked several kilometres to attend school at Dagomba in Sekyere Afram Plains District.
"I didn't come to Nhyiaeso D/A Basic School alone. I came with some of my friends. The new classrooms are very conducive to learning. The feeling is different here," he said.
Education authorities are happy with the intervention of the MTN Ghana Foundation.
The District Director of Education said, "Just yesterday when we did the 'My First Day at School', we had about 45 new entrants. Apart from those coming from Nhyiaeso village, others came from the environs so you can imagine. By the close of this week, we are expecting more."
The education directorate is grateful to MTN Ghana Foundation and The Multimedia Group for the support as Municipal Director of Education, Mrs. Agyepong predicts increasing enrolment figures.
"I believe it's going to increase by the time we get to the second or third week in Nhyiaeso. A lot of students are ready to come to the school in Nhyiaeso.
"Now we have trained teachers in the school and above all, the building itself is attracting them [students] to get enrolment here. It's really comfortable," Mrs Agyepong said.
Myjoyonline
Please contact Apexnewsgh.com on email apexnewsgh@gmail.com for your credible news publications. Contact: 0555568093.